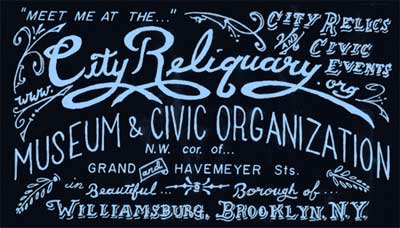 The other day I spotted this nice story on the City Reliquary which is about to move:
Brooklyn's City Reliquary Showcases Big Apple Artifacts
You can see it in the window of the City Reliquary in Williamsburg. This is a new location for the storefront collection of oddities and relics from New York City history, which doubles as a center for civic information.
Founder Dave Herman has moved it from Grand and Havermeyer to a larger space on Metropolitan Avenue. It's made up of his own items, along with the collections of neighbors and friends, like a sandwich pick from the now closed Second Avenue Deli, and an entire binder full of Statue of Liberty postcards.
"New York City's history is out on the curb or buried in people's basements," says Herman.
Here is the official website of the museum: