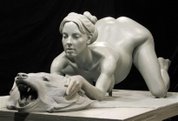 I just realized that the Britney Birth Sculpture that I've been reading about all over the place will be on display in Williamsburg! This is great as it puts the limelight on Williamsburg and takes it away from Chelsea in terms of the public mindspace. It's hardly a Brooklyn arts movement, but it's a good sign for the art galleries in Williamsburg.
This is a sample of some of the press I've been seeing:
Britney Sculpture of Birth Causes Stir
Britney Spears will soon be giving birth again — in Brooklyn, as a sexy sculpture that has drawn thousands of hate e-mails. "This is a new take on pro-life. Pro-lifers normally promote bloody images of abortion. This is the image of birth," Daniel Edwards said of his work, to be unveiled at a Brooklyn gallery in April, months after Edwards' sculpture of Ted Williams severed head stirred up an artistic storm. The life-size pop princess is naked and pregnant, crouching face-down on a bare-toothed bear rug as the baby's head appears on the opposite end.
I'm not crazy about the sculpture itself, but I think it's great that the artist has managed to ape the Koons celeb angle, playing to politics, and getting press attention - which is it's own artform.
The sculpture will be displayed at:
Capla Kesting Fine Art
121 Roebling Street
Brooklyn New York 11211
Gallery hours are 1:00- 6:00 pm Thursday - Sunday