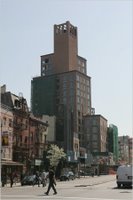 The New York Times has a feature story on Williamsburg on the front page of the Real Estate section:
How Big Is Too Big?

It is not hard to spot the buildings that Robert M. Scarano Jr., an architect, has designed in New York City: they tend to be a lot bigger than the other buildings around them. In Williamsburg, Brooklyn, Mr. Scarano's building at 78 Ten Eyck Street is about twice as tall as the modest three-story houses on either side of it.
But the sheer bulk of many of Mr. Scarano's projects has prompted some residents to complain that he ignores the zoning code and puts up buildings that are simply too big, blocking the light and views of their neighbors. And too often, they say, the city has stood by and done nothing.
Stephanie A. Thayer lives in Williamsburg and has been active in protests over a tall building designed by Mr. Scarano that is going up at 144 North Eighth Street. She was also involved in years of community debate that led to a major rezoning in Williamsburg last year, including lower bulk and density restrictions for much of the neighborhood.
...to this I'll add: Not only are the buildings tall, poorly put together - but they're also ugly. Not that Robert M. Scarano Jr. should be singled out for putting up ugly looking buildings to cash in on a real estate boom, but many of these buildings have that Soviet feeling to them. I don't know if it's a lack of detail or the overall boxy look, but these buildings have no character. I think what makes this stand out is that the old buildings surrounding these rush jobs have that seasoned quality and craftsmanship to them.