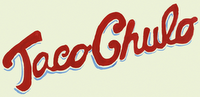 Not too long ago I heard about
Taco Chulo
via my favorite local podcast
"Live from the WB"
, and they seemed pretty impressed so I figured it would be worth a visit (and I wasn't let down).
The first thing that impressed me was the decor. The space has a nice open feeling to it and features some nice splashes of color, making it feel slightly upscale - but not so over the top that you don't feel at comfortable.
Next the food was a real pleasure to eat, and the menu had a nice wide range of choices. I also appreciated that fact that their menu was very vegetarian friendly, which makes a real difference for me. In my book you always get extra points when there are not one, but several items that a veggie can order - and Taco Chulo passes with flying colors.
Taco Chulo is the kind of place where you can go on your own or take a party of friends to hang out on a Sunday (did I mention they have a fully stocked bar?). The service was pretty fast and friendly, yet not too in your face which is very good if you're hanging out with friends. And last but not lest the pricing was very reasonable.
The Williamsburg Nerd rates Taco Chulo:
Brunchworthy!
+ Bonus Points for being Veggie Friendly

Taco Chulo
318 Grand Street (btwn Havemeyer & Marcy)
Brooklyn, NY 11211
Phone 718-302-CHULO (2485)