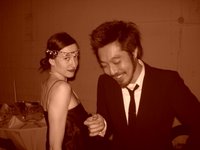 I just spotted this Williamsburg item in the
New York Post
:
Sick Of Clubs, Hipsters Revive Old-Style Dinner Parties
Involving a strict yet mixed guest list, a non-negotiable dress code, an adherence to rules of outdated etiquette, and forcible socializing with a roomful of strangers - some famous, some poor, all fascinating - the new happening known as "The Dinner Club" has become an underground phenomenon.

Inspired by similar happenings in London and Argentina, Jaksic - a self-described "food history dork" - and her equally dispirited pal Amy Burgess became obsessed with the idea of restoring the right mix of grandeur and frivolity to New York City nightlife. Because, as Burgess puts it, "Right now it's all about drunk girls throwing up. Everything's too loud. And I hate being pushed by people. Literally, pushed."
They describe their mission as an attempt "to revitalize the dispassionate New York social scene." It's fair to say this is an understatement.
Their first event, thrown a few months ago in Burgess' 3,000-square-foot Williamsburg loft, was a literal, deeply researched recreation of a 1920s New York high society bash. Hard invites were sent to a carefully cultivated guest list of 20 (total attendance was 40, with plus-1s).
Those invited were directed to the Web site, dinnerclubnyc.com, where Jaksic and Burgess posted images from books and fashion magazines so guests would have reference points for the evening's dress code. "We didn't want it to be a hipster event," Jaksic says. "We wanted to get the message across that it isn't a bubble-gummy dress-up party. It's based on history, it's very detail-oriented, and we expected our guests to put in the effort."
So I visited
the Diner Club website
and found this:
The Dinner Club is a monthly gathering of those in search of a unique social experience. Offering food and knowledge within a formal atmosphere, the Dinner Club strives to create an authentic ambiance from times past. Each event features a period specific three course meal accompanied by beverage and entertainment. The success of each event depends on the participation of each guest, through attire and attitude relevant to each time period.
The creation of Dinner Club was conceived by Miss Amy and Miss Julia in attempts to revitalize the dispassionate New York social scene.

It's very cool to see somebody doings omething that's new - at long last we are getting over the mindset of forever trying to re-create Studio 54. My top hat is off to Miss Amy and Miss Julia...