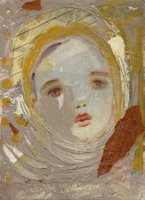 This just in from
Kristy Lynn:
Sorry for the last-minute news (I'm so bad about that!), but just wanted to let you know: I am going to hang some work at AG Gallery for their Salon de Expace event, starting tonight June 30th in Williamsburg, Brooklyn! This show will remain on view for the next 10 days, and they are open every day, so please check it out if you can!
AG Gallery
103 N.3rd Street (btwn Berry and Wythe Ave.)
Brooklyn, NY11211
718-599-3044
http://www.aboutglamour.net
Top Right: Idol/ Idle, oil, wax, mixed media on canvas, 9" x 12"