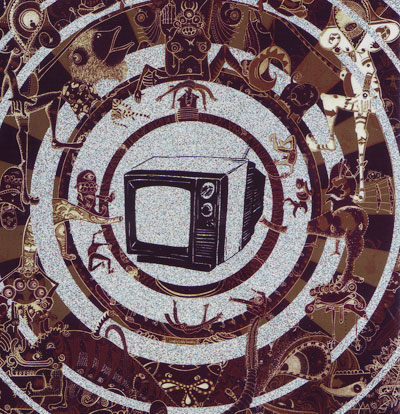 I went to this event last year and it was quite the enjoyable scene:
Too Art for TV, Too
Second Annual Exhibition for New York's Animation Industry
Stay Gold Gallery
Friday, May 4th - May 25th 2007
Opening Reception: Friday, May 4th, 7pm-10pm
Special DJ guest: Mikael "DJ Ronny Monstrous" Jorgensen
"Stay Gold Gallery is pleased to present Too Art for TV, Too, the Second Annual Exhibition for New York's Animation Industry. 35 artists, by way of toys, comics, prints, and paintings, liberate the skills otherwise "owned" by their television networks bosses.
In January of 2006, Too Art for TV opened as the first of this annual event. Drawing in an excited, elbow-to- elbow crowd of artists, illustrators, filmmakers, animators, and gallery goers, Too Art for TV unquestionably demonstrated the wide spread appeal of animation inspired art.
Animation artists are experts in monsters, robots, villains, and the changing genres of pop influence. They are the lusty consumers of graphic novels, toys, video games, art books, and the many incarnations of obsessive geek culture. Their careers make them excellent drafts-people, skilled at drawing and well adapted to the latest design technologies. Loaded with influences and abilities, their works when combined create an umbrella movement for pop surrealism, geek-core, graffiti, low-brow and the finer arts.
Too Art for TV, Too is the biggest showing of this movement to date; featuring the artists who create, write, direct, storyboard, design, color, and animate "Venture Bros." (Adult Swim), "Teenage Mutant Ninja Turtles" (Fox Network), "Ice Age" (Blue Sky Studios), "A Scanner Darkly" (Richard Linklater), "SpongeBob SquarePants" (Nickelodeon), "Code Name: Kids Next Door" (Cartoon Network), "Stanley" (Disney TV), "Daria" (MTV Animation), "Blue's Clues" (Nick JR), and more.
Contributing artists: Liz Artinian, Amanda Baehr Fuller, Jennifer Batinich Blue Bliss, Jeff Buckland, Jared Deal, Kelly Denato Jason DiOrio, Marina Dominis, Nash Dunnigan, Jonathan Ehrenberg, Chris George, Marta Jonsdottir Danny Kimanyen, Rick Lacy, Dave Levy, Douglas Lovelace, Todd K Lown, Jim Manocchio, Miguel Martinez-Joffre, Richard Mather, Jessica Milazzo Dagan Moriarty, Liam Murray, Jackson Publick Reject, Kim Rygiel , Pammy Salmon, Tim Shankweiler, PeeDee Shindell, Justin Simonich, Alex Smith, Kate Tyler, Martin Wittig, Irene Wu."